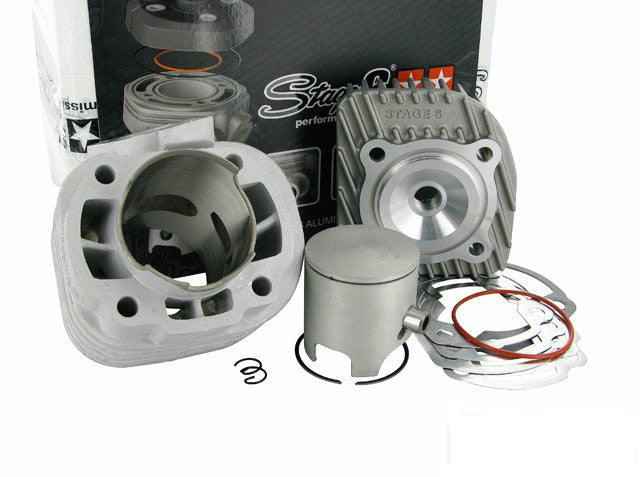 Cylinder Stage6 Sport Pro MkII 70cc Minarelli Zuma 12mm wrist pin
---
Cylinder Stage6 Sport Pro MkII 70cc
This kit uses a 12mm wrist pin which is used on most of the Chinese Minarelli engines.
The stock Yamaha Zuma has a 10mm pin and will require a upgraded crank designed for a 12mm wrist pin.

The Stage6 Sport Pro 70cc aluminium cylinder is a good and affordable cylinder that has been popular with many tuners - and now Stage6, with their new Sport Pro MKII, are taking things one step further.

A completely new design with new transfer ports cater for 2 hp more, which with the right components results in 15-17 hp right out of the box. The appearance is based on the pentagonal shape of the R/T cylinders. The head is a one-piece construction with cast scavenging passages for better heat transfer. The piston used is a replica of the R/T version, with domed crown and 0.8mm ring to increase performance and improve thermal stability. We are sure that this cylinder will set new standards in the tuning scene.
---
Share this Product
---
More from this collection