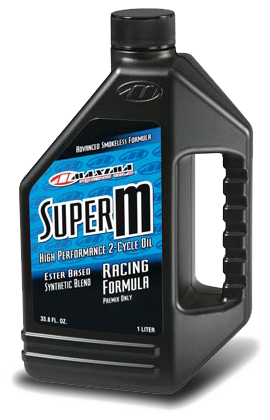 Maxima Super M Premix racing oil
---
Smokeless, low ash ester based synthetic blend 2T engine oil. Designed for use in all high performance 2-stroke engines. Ester synthetics offer high film strength and reduced friction allowing for efficient running engines. Ultra-clean burn technology prevents ring sticking and keeps pistons and exhaust tracts carbon-free. Exceeds all OEM specifications. Premix only.
Recommended PreMix Ratios
50-80cc (24-32:1) | 125cc (24-40:1) | 250cc (24-40:1) | 500cc and up (32-60:1)
Caution
Not intended for use in oil injection systems. When blending with alcohol it normally requires more oil. Care must be exercised when blending with low specific gravity (below 0.730) race gasoline or aviation fuels and in temperatures below 35ºF as separation may occur. Separation may also occur in alcohol containing a high percentage of nitromethane. Check before using.
---
Share this Product
---
More from this collection