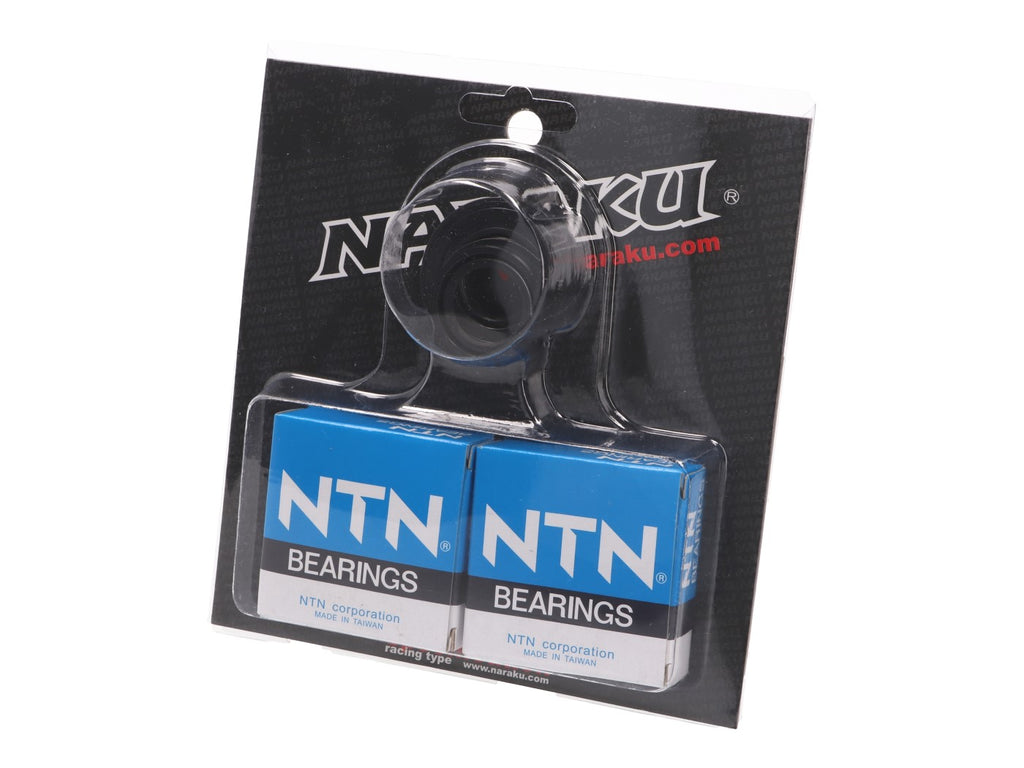 Naraku Heavy Duty Crankshaft bearings and seal kit for Minarelli horizontal and vertical engines
---
Naraku heavy duty crankshaft bearing kit with crank seals.
Fits both the horizontal and vertical engines found on the Yamaha Jog and Zuma.
So weather you have a Prebug or Bugeye Zuma these bearing have you covered.
It will also fit the list below and many others scooters using the Minarelli engine.
Suitable for:
Aprilia AMICO 50 - 1990/1998 - Scooter
Aprilia GULLIVER 50 - 1993/1999 - Scooter
Aprilia GULLIVER 50 LC - 1996/1999 - Scooter
Aprilia RALLY 50 - 1993/1998 - Scooter
Aprilia RALLY 50 LC - 1994/1998 - Scooter
Aprilia SCARABEO 50 - 1993/1998 - Scooter
Aprilia SR 50 / REPLICA ARIA - 1993/1998 - Scooter
Aprilia SR 50 / REPLICA LC - 1994/1998 - Scooter
Beta ARK 50 - 1996/1997 - Scooter
Beta ARK 50 LC - 1996/1997 - Scooter
Beta QUADRA CHRONO 502 50 - 1994/1997 - Scooter
Beta TEMPO 50 - 1994/1997 - Scooter
Italjet PISTA 2 YANKEE 50 - 1993/1996 - Scooter
Italjet SCOOP 2/3 50 - 1993/1996 - Scooter
Keeway Fact
Keeway Matrix
Malaguti CENTRO 50 BASE - 1993/1994 - Scooter
Malaguti CENTRO SL 50 - 1994/1997 - Scooter
Malaguti F10 JET LINE 50 / KAT - 1992/1997 - Scooter
Malaguti F12 50 PHANTOM AC / KAT / RESTYLING - 1993/1997 - Scooter
Malaguti F12 50 PHANTOM LC / KAT/ RESTYLING - 1994/1997 - Scooter
Malaguti F15 50 FIRE FOX LC / KAT - 1996/1997 - Scooter
Malaguti YESTERDAY-YESTERDAY EURO 50 - 1997/1998 - Scooter
Mbk BOOSTER CW 50 R / RS / RSP / RSX / KAT - 1990/1999 - Scooter
Mbk EVOLIS 50 - 1992/1996 - Scooter
Mbk EW STUNT 50 - 2000/2000 - Scooter
Mbk FORTE 50 - 1995/1996 - Scooter
Mbk YM 50 FIZZ - 1994/1996 - Scooter
Minarelli 2T CW - Motorcycles-mopeds
Minarelli 2T CY - Motorcycles-mopeds
Minarelli 2T MA - Motorcycles-mopeds
Minarelli 2T MY - Motorcycles-mopeds
Yamaha BOOSTER 50 - 1990/1995 - Scooter
Yamaha BW'S BUMP 50 - 1997/1998 - Scooter
Yamaha BW'S NEXT GENERATION 50 - 1997/1999 - Scooter
Yamaha BW'S ORIGINAL 50 / SPY - 1997/1999 - Scooter
Yamaha CW 50 RS SPY - 1995/1998 - Scooter
Yamaha MA 50 - 1994/1995 - Motorcycles-mopeds
Yamaha YA R AXIS 50 - 1995/1996 - Scooter
Yamaha YA ZA JOG Z 50 - 1990/1995 - Scooter
Yamaha YM 50 BREEZE - 1994/1995 - Scooter
Yamaha Zuma 2002/2011- Scooter
---
Share this Product
---
More from this collection