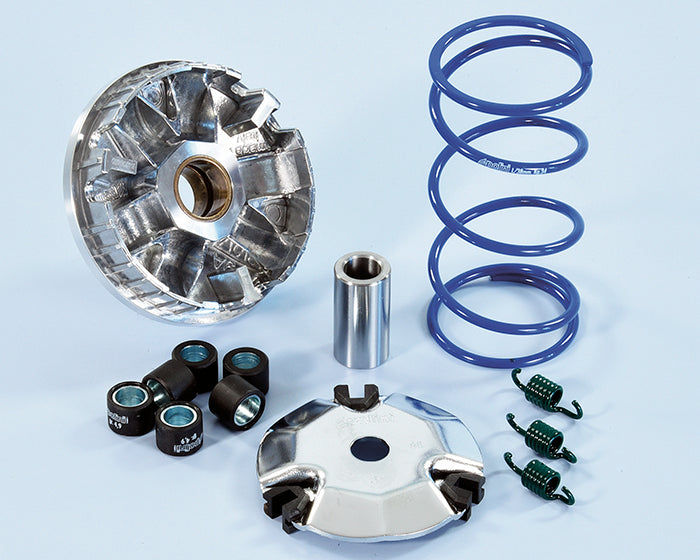 Polini Variator for the Yamaha C3 and Zuma 50F
---
Polini Motori confirms its advanced technology to make the best of scooters even better by presenting the new complete series of products to make the engine of the Yamaha Aerox 50 4stroke E4 even more performing.
Following the assembly steps recommended to increase the performance:
1° step – Lambda probe emulator + Hi-Speed variator performance increase till 55 km/h
2° step – Lambda probe emulator + Hi-Speed variator + cylinder kit + gear kit: performance increase till 85 km/h
POLINI LAMBDA PROBE EMULATOR AND HI-SPEED VARIATOR FOR YAMAHA AEROX 4STROKE EURO 4
The new Polini HI-SPEED variator designed for Yamaha Aerox 4stroke Euro 4 scooter enables exciting efficiency and performance without giving up the maximum reliability. The half pulley has been designed with different grades to let the belt increase the excursion. The inside of the rollers sliding surfaces has been submitted to a glazing treatment to improve rollers sliding. The compression spring load has been increased of 87%. The springs with load increase of 35% improve of 500 rpm when the clutch engages. The rollers have a coating made of a new mixture of nylon and aramid fibers.
A set of 4,9 gr rollers is included in the package.
---
Share this Product