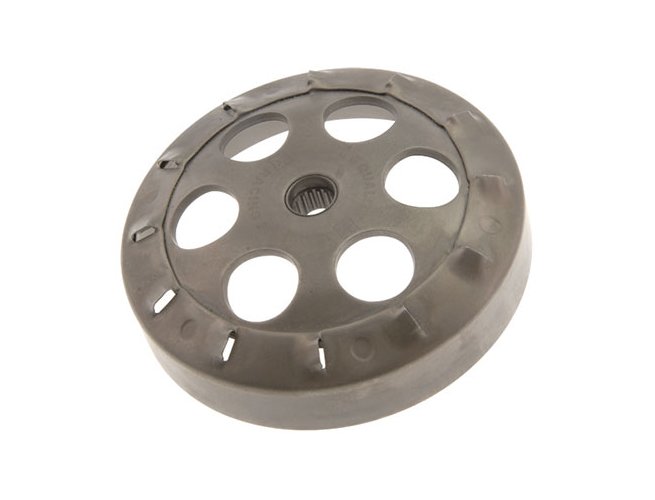 Stage 6 Wing Cooler Minarelli 107mm clutch bell
---
Stage6 Clutch Bell "Wing Cooler" 107mm Minarelli / China 2-stroke, reinforced clutch bell with a patented cooling system for long life and excellent grip.
Air flow, and consequently cooling of the entire clutch, are improved by large cut-outs and additional ventilation slots. Clutch slip is reduced, bell and clutch shoe lining will last longer. With the temperature reduced, transmission of power to the rear wheel and performance are improved, engine response and acceleration are excellent even when the engine is warm.
For improved grip, the inside was blasted. Moreover, this clutch bell is a real lightweight when compared to other bells, it weighs only 395g (Polini's Evolution = 485g and Malossi's Wing Bell = 576g). This has a positive impact on acceleration.
ATTENTION !!! Attention, this clutch bell can only be used with Minarelli engines that come with 3-shoe clutches (inner bell diameter = 107 mm); please check before ordering!!
S6-5516600
---
Share this Product
---
More from this collection