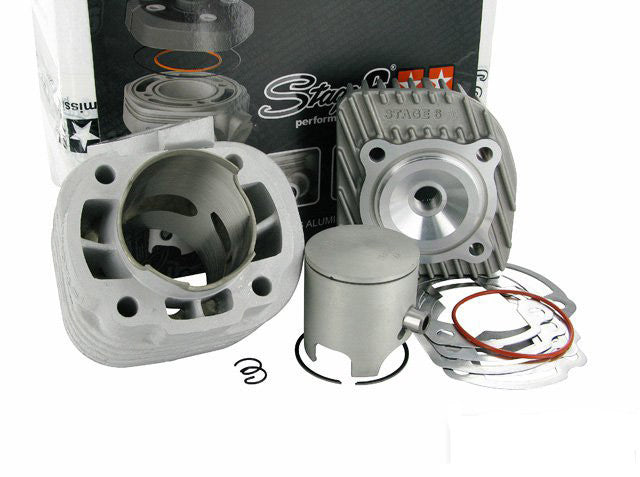 Stage6 Racing MKII cylinder 70cc 12mm wrist pin Minarelli
---
Cylinder Stage6 Racing MKII (12MM)

The successor of the popular Stage6 70cc Racing cylinder is called Stage6 Racing MKII 70cc. It has been completely revised and has 1hp more out of the box.

Re-designed aluminum cylinder with high-strength nikasil coating. The former flat piston has been abandoned in favor of an R/T replica with 0.8mm ring and domed crown. The thermal stability has been improved in all areas. Generous flushing of the bridged exhaust port; pentagonal design and inner cooling fins; one-piece head with scavenging passages – to name but a few of the improvements.

With the right components, this cylinder yields 17–19 hp right out of the box. And there is still enough material left for everyone to do some own work and get more than 20hp out of this cylinder.
This kit uses a 12mm wrist pin which is used on most of the Chinese Minarelli engines.
The stock Yamaha Zuma has a 10mm pin and will require a upgraded crank designed for a 12mm wrist pin.


---
Share this Product